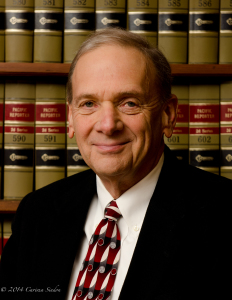 Rick Skinner was born in Minneapolis, Minnesota, and raised in Albert Lea, Minnesota.  He graduated cum laude with a B.A. degree in history from Stanford University in 1967 and received a J.D. degree from the University of Chicago Law School in 1970.
Rick was admitted to the California (now inactive) and Idaho State Bar in 1970.  He received a Reginald Heber Smith Community Lawyer Fellowship from Howard University in Washington, D.C. in 1970 and was assigned to Idaho Legal Aid Services, Inc. in Caldwell until 1972 and then worked for Idaho Legal Aid until June 1973 when he established the law office which is now Skinner Fawcett LLP.
Rick practices primarily in the areas of public finance and administrative law and is experienced in a wide range of public finance transactions including general obligation bonds, single family mortgage revenue bonds, multi-family housing bonds, nonprofit facility bonds, transportation bonds, tax exempt-lease financing and certificates of participation, health care revenue bonds, advance refundings and current refundings, industrial development revenue bonds, urban renewal and economic development bonds, tax and revenue anticipation notes and warrants, letter of credit and tender financings, water and sewer revenue bonds, special assessment and local improvement bonds, school district bonds, and irrigation bonds.  He has lectured in public finance matters for programs sponsored by local and national organizations.
In his spare time, Rick enjoys fly fishing, road bicycling, downhill and cross country skiing, hiking, gardening, independent and international films, volunteering with homeless programs, travel and spending time with his extended family.