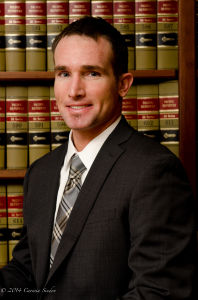 Henry Rudolph was born in Caldwell, Idaho and raised in Boise, Idaho.  In 1998 he received a B.S.B.A. in Accounting and a minor in Aviation, cum laude, from Walla Walla College.  In 2003 he received a J.D. from Willamette University College of Law and an M.B.A. from Willamette University Atkinson Graduate School of Management.  He was admitted to the Idaho State Bar in 2003 and is licensed to practice before the United States District Court for the District of Idaho and the United States Court of Appeals for the Federal Circuit.
After graduating from law school, Henry worked as a Deputy Prosecuting Attorney for Canyon County and later as an associate attorney for Anderson, Julian & Hull before joining Skinner Fawcett LLP in August of 2005.
As an associate attorney for Skinner Fawcett LLP, Henry's practice focuses in the areas of estate planning, real estate transactions, including negotiating purchase and sale contracts, business entity formation, corporate law, landlord tenant issues, employment law, commercial transactions and related contracts, public finance law, general obligation bonds, multi-family housing bonds, nonprofit facility bonds, charter school bonds, urban renewal and economic development bonds, industrial development bonds, local improvement bonds, water and sewer revenue bonds or related loan financings and other revenue bond financings. Henry is also a member of the National Association of Bond Lawyers.
In his spare time Henry enjoys snow skiing, wakeboarding, mountain biking, camping, gardening, and hiking with his yellow Labrador puppy.