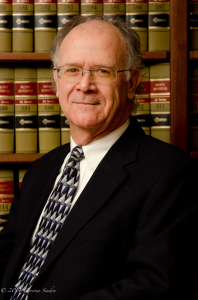 Dennis Gibala has been a member of the firm since 1990.  He was born in New Castle, Pennsylvania, and has a B.S. degree in metallurgy with honors from Case Institute of Technology (now Case Western Reserve University) in Cleveland, Ohio.  After serving as an officer in the United States Naval Reserve, Dennis received his J.D. degree from the University of Southern California (USC) in Los Angeles, California.  Immediately after his graduation from USC, he began his legal career in Idaho.
Dennis was admitted to the Idaho State Bar in 1975, and he worked initially for Idaho Legal Aid Services, Inc. in both Caldwell and Boise as a recipient of a Reginald Heber Smith Community Lawyer Fellowship.  He then entered private practice as a sole practitioner in 1977 and continued in that capacity until joining the firm in April, 1990.
Mr. Gibala has experience in various legal areas including governmental benefits, disability, worker's compensation, employment law, personal injury, family law, administrative law, public records and, since 1995, certain aspects of public finance law, general obligation bonds, school district bonds, local improvement bonds, water and sewer revenue bonds or related loan financings, other revenue bonds, lease and certificate of participation financings, interim financings, and judicial confirmations of public financings.
Dennis is admitted and authorized to practice law in all courts of the State of Idaho; the United States District Court, District of Idaho; the United States Court of Appeals for the Ninth Circuit; and the United States Court of Appeals for the Federal Circuit.  He has argued or appeared in appellate matters before the Idaho Supreme Court involving unemployment insurance benefits, worker's compensation, public records, and public finance law.  During his career he has also argued or appeared in various federal court appeals before the United States District Court, the Ninth Circuit and the Federal Circuit pertaining to governmental employment, disability and retirement benefits and rights, as well as fee issues and awards related to those types of cases.  Dennis is a former longtime member (1983-2010) of the National Organization of Social Security Claimants' Representatives.  He now limits his legal practice mainly to assisting with the firm's public finance clients.
Mr. Gibala is a trustee emeritus of Case Western Reserve University in Cleveland, Ohio.  He is also a current member of the Idaho Law Foundation, the Boise State University (BSU) Bronco Athletic Association, and the Idaho Shakespeare Festival (ISF).  In addition to attending ISF performances regularly and also serving as a summer ISF housing host, Dennis follows BSU men's basketball each winter as a longstanding fan and season ticketholder.  In his other spare time he enjoys skiing, fly fishing, running, hiking, biking, music, reading, dogs and berry picking.