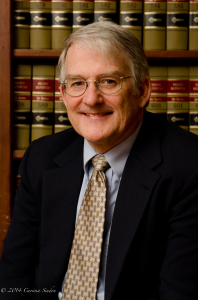 Chuck Fawcett was born and raised in Long Beach, California.  He has a B.A. degree in philosophy from the University of California at Santa Barbara and a J.D. degree from Boalt Hall School of Law, University of California at Berkeley, where he served as an Associate Editor for the Ecology Law Quarterly.
Chuck was admitted to the Idaho State Bar in 1971 and the Washington State Bar Association (inactive) in 1975.  He began working for Idaho Legal Aid Services, Inc. in 1971 in Lewiston and later transferred to its Caldwell office.  In 1976 Chuck spent a year working as an Deputy Attorney General assigned to the Division of Environmental Quality.  In 1977 he joined Rick Skinner in private practice, and the two have remained partners ever since.
Chuck practices primarily in the areas of creditor's rights, real estate, bankruptcy, business and commercial law, estate planning and probate.  He is a current member of the Commercial Law League of America (CLLA) and a former member of the National Association of Bond Lawyers (NABL).  He is authorized to practice law in all courts of the State of Idaho, including the United States District Court for the District of Idaho.
In his spare time, Chuck enjoys gardening, rock collecting and lapidary work, hunting, fishing, and spending time with his 9 grandchildren.